Norrbotten and Västerbotten meet EU transoprt infrastrucutre representatives
Politicians as well as representatives from the industry and academia from Norrbotten and Västerbotten visited Brussels April 26 for discussions about ongoing work in the region and in the EU institutions regarding the development of transport policy and financial solutions for infrastructure investments.
Niklas Sirén (V), Kiruna Municipality, Niklas Nordström (S), Luleå Municipality, Lorents Burman (S), Skellefteå Municipality, Johan Söderling (S), Vännäs Municipality and Hannah Öhman, SmurfitKappa and Uday Kumar, Luleå Railways Research Center at Luleå University of Technology visited Brussels for a full day on April 26 to discuss transport infrastructure and related issues for the region with representatives of the EU institutions.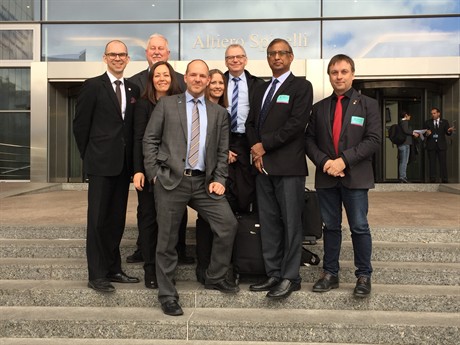 The delegation met Pat Cox, European Coordinator of the Scandinavian Mediterranean Corridor (ScanMed), as well as officials at DG MOVE and Marita Ulvskog (Employment Committee), Jens Nilsson (Transport Committee) and Jytte Guteland (Environmental Committee), Members of European Parliament.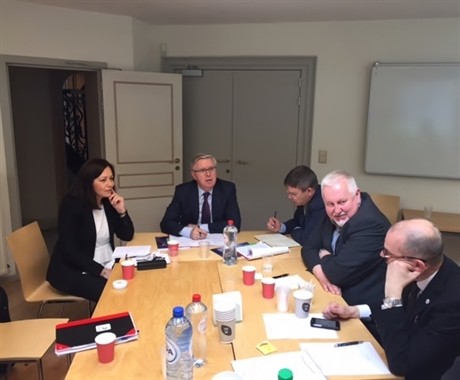 The discussions focused on ongoing activities in the region more specifically in regard the priority areas Northern Axis and the Iron Ore Line as well as north-south the North Bothnia Line and the entire Bothnian Corridor, Port of Luleå and the Midway Alignment Umeå-Vasa, as well as ongoing work at the EU institutions as regards development of transport policy and ScanMed Corridor in the next program period and new ways of financing infrastructure investments. 
In particluar the group discussed the extension of the ScanMed Corridor to Northern Sweden along the coast and via the Iron Ore Line to Narvik in Norway and along the Haparanda Line to the Swedish-Finnish border.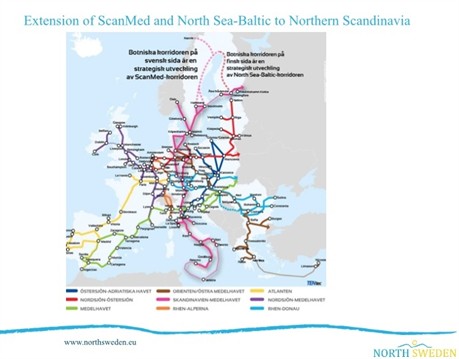 The group highlighted innovations and demonstration environments in the region within railway technology as well as the needs of the industry of well-functioning and reliable infrastructure and efficient logistics solutions.
The participants presented studies and analysis carried out and recently presented that point out infrastructure initiatives as crucial for growth creation. These include the work within the Norrbotten Arctic platform and the process of developing an EU policy for the Arctic carried out by the EU Commission, the EU External Agency Service (EEAS) and the NSPA Regions. North Sweden also presented the main features of the OECD study for the NSPA-regions presented earlier this year in Brussels.
Although the focus during the visit was mainly centered on transport infrastructure, discussions were also held on other issues such as environment/energy and climate, labor law, research and innovation, and the state of the Union and the future of the EU. 
/Mona Mansour